How did I get started? and How You Can too...
"You're always one decision away from a totally different life".
There are many ways we support each other in this team.
From teaching leadership skills, encouraging personal growth, a monthly book club, meditations, webinars, weekly team calls — we're a holistic, whole and integrated group of light-workers who value thriving on ALL levels.
We are looking for peeps who want to partner with us to build their own successful Wellness Business.
I think the very definition of torture is hitting the same income month after month knowing that you DESERVE more.
Are you ready to start your own business from home? A true and legit 'Work from home opportunity'.

EVERYONE that has joined, (including me) has had some sort of fear along the way.
How do I start? What if it doesn't work? What if I can't do it? What if I am not GOOD ENOUGH? (sheesh that one killed me). Then one day, I realised that letting Fear hold me back and not leaning into FREEDOM, that by not leaning into an abundant life, I was accepting that my life could be capped. Don't submit yourself to stick to a mundane job / life!
My advice to you is this - get out there!
Do what you need to do to live the life you WANT and DESERVE.
Schedule in a 30 minute call with me - no hokus pokus! I promise - I will not BS you, & You will learn about this PHENOMENAL business opportunity - along with the added benefits it holds in helping you achieve your highest purpose in life.
Click here to schedule a call with me - no strings attached
You are NOT alone. I will be there right by your side helping you move past any fears and making this happen. ANYONE can do this.


I have partnered with the most incredible company. doTERRA is about helping others with the highest quality Wellness Products. It's about joining a team of like minded people who are all about helping the global community. It has an amazing compensation plan (I'm telling you; it will BLOW YOUR MIND) that allows us the opportunity to be debt free and give back. It is a culture based on integrity and giving. YOU are the one that decides how to structure your business. How far you want to take it. How many hours you want to invest in it. It doesn't have to be a FULL TIME thing just yet. You set your pace! I swear - It's not your average Network Marketing company and all the top earners in my team have never even been part of Network Marketing before!
Are you ready to take a chance? 

If you are interested in growing a home based business doing something that you love, if you've been searching for an opportunity to supplement or even replace and multiply your current income through something that will fit in with your current lifestyle, family and other commitments, doing something that genuinely makes a difference in people's lives, that fills you with passion and purpose. Something that has a wellness and sustainability focus. That will drive you to become a better person and be in service while transforming yours and others lives, going into business with me might just be what you've been searching for and never quite found!
This opportunity suits a wide range of people from those with an existing business in the wellness industry to those wanting to start a brand new business to Bloggers, Students, Health and Life Coaches, Personal Trainers, Body Workers, Yogi's and Yoga Teachers, Holistic and Complementary Therapists, Massage Therapists, Aromatherapists, Kinesiologists, Nutritionists, Chiropractors etc. - and really anyone with a genuine desire to make a difference, step out of their comfort zone and become an entrepreneur.
If you already know that you would like to become a Wellness Advocate and join our incredible, thriving team head here.
How to Earn
doTERRA have amazing natural, 100% pure Essential Oils and other products that I have found extremely beneficial in my life and I believe everyone from birth to the very elderly can benefit from.
They also have an amazing compensation plan where you get rewarded simply for sharing something you love with others. It is a fantastic accompaniment to any Holistic Health Business and really anyone who is passionate about natural, safe, cost effective and reliable health care solutions. 
One of my favourite parts is that I don't have to personally post everything or handle customer service. The company do all of that for you! All you do is educate and empower people and the rest is done for you while you get paid for doing what you love!
The easiest way to share with people is by giving them a sample based on whatever their needs are. You can also share extremely effectively online through facebook, instagram, facebook groups, a blog etc. For me, it's all been about connecting with people and REALLY helping and serving then where they're at.
You can also hold classes, workshops or other events to introduce people to these amazing oils/products. Please click here for an up to date list of any classes either I or my team are running on your local area.  I am currently living in Melbourne, but I often travel around Australia hosting classes with and for my team so you never know, I could be in your local area this week, and we could potentially meet up and chat all things oily.   (& always feel free to bring people to classes ! The more the merrier I say).  
You can approach other business owners- Wellness Centres, Spas etc as well. There are really endless ways to effectively share.
The amount you can earn is really quite limitless. doTERRA is not an 'illegal' pyramid scheme and you can easily outrank people above you, it is a direct selling company where you are rewarded for sharing!
To get started you will need to get a wholesale account and become a Wellness Advocate. You can be in our team no matter where you are in Australia and doTERRA is also available in many countries around the world. You can share with family members and friends overseas and still earn commission!
The best part is you can help people get wholesale access to the oils as well as sell retail if you wish and there is NO minimum monthly order unless they would like to do what you are doing and start sharing and earning commission, which also benefits you! If you want to earn commission there is a min monthly order of 100pv which in Australian $ is equal to around $120-$140 depending on what you order.
See the full price list for wholesale prices and PV value. But the best bit is you can use your commission monies to cover this! It can also be started or stopped at any time. 
People LOVE being in our team as it is such a supportive, community environment, we have a private, members only facebook group, weekly conference calls, free, comprehensive online training you can take at your own pace, lots of events you can immerse yourself in and the best part is we are all here to help make a difference in peoples lives with tools that can support them on a physical, emotional and energetic/spiritual level, PLUS we get to help others achieve abundance, DOES IT GET ANY BETTER??!!!
Here are some facts about the company taken from this fact sheet.
Company Profile: dōTERRA International, LLC
dōTERRA® International, LLC produces and distributes exceptionally high quality CPTG Certified Pure Therapeutic Grade® essential oils through more than a million independent distributors, also known as Wellness Advocates, around the world. In addition to a premium line of essential oils used by individuals and health-care professionals alike, the company also offers products that are naturally safe, purely effective, and infused with CPTG essential oils, including personal care and spa products, nutritional supplements, and healthy living products.
---
Growth Milestones
May 2008 – dōTERRA founded
December 2008 – dōTERRA reaches $1 million in sales
November 2009 – dōTERRA has first $1 million month
Throughout 2012 – dōTERRA has regular $1 million days
March 2013 – dōTERRA breaks ground on state-of-the-art corporate headquarters
July 2014 – dōTERRA reaches more than 1,000,000 Wellness Advocates
August 2014 – dōTERRA corporate headquarters Phase 1 completed
---
Industry Leading Retention
dōTERRA enjoys a 65 percent retention rate, compared to a direct selling industry average near 10 percent. After joining dōTERRA, 65 percent of all customers reorder, continue to share dōTERRA products, or build a dōTERRA business. Why?
Customers and Wellness Advocates are satisfied with product value
High satisfaction levels lead to a desire to share products and success with others
Product sales leaders recognize the value of dōTERRA's powerful compensation plan
---
CPTG Certified Pure Therapeutic Grade® — An Innovative Standard
dōTERRA CPTG Certified Pure Therapeutic Grade essential oils represent the safest and most beneficial oils available in the world today. For an oil to be CPTG Certified Pure Therapeutic Grade the oil must be:
Pure and natural, with aromatic compounds carefully extracted from plants
Free from fillers or artificial ingredients; no dilution of active qualities
Free of contaminants, pesticides, or chemical residues
Rigorously tested for standards of chemical composition
Cross tested using mass spectrometry and gas chromatography to ensure exact purity and composition potency
Sourced by a global network of leading essential oil chemists and growers to ensure correct species, growth in ideal environments, and that raw plant materials were carefully harvested at the right time
---
Philanthropic Efforts
dōTERRA focuses philanthropic efforts through the dōTERRA Healing Hands Foundation. Its mission is to bring healing and hope to the world, for lives free of disease and poverty, and ultimately to teach impoverished cultures to be self-reliant.
The foundation is supported by contributions from dōTERRA Wellness Advocates™, retail and preferred customers, company employees and executives, and others who share our vision. Donations are collected through monthly contributions, one-time contributions, and select product sales. For more information visit Healing Hands.
dōTERRA created a ranking system to facilitate the compensation system.  Think of each ranking as a benchmark to further success. Here are some average earnings for each rank, by the way these are MONTHLY earnings, not annual, so a Diamond earns an average of $12,000 a month, so $144,000 a year, Blue Diamond even looking at the beginning average is 35,000 a month, $420,000 a year.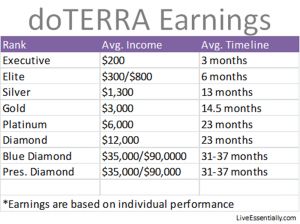 Here is a visual graphic of what the different ranks look like.